In all my trips to Cuba, I have stayed in casa particulars (room rentals from private homes). I wouldn't have it any other way. Imagine an informal airbnb network that has been running for years, with only a percentage of houses listed on tripadvisor and in guidebooks. It is perhaps easier to book accommodations in advance, but you can usually find something upon arrival by just looking for the casa particular symbol (looks like a blue anchor - this one happens to be a casa for Cubans, the one for tourists doesn't have writing below it)
All of my casa's have been excellent with the exception of Varadero, but even that was half the price of an equally bad hotel. If you seek them out, you can stay in some gorgeous colonial houses in Vedado or Habana Veija, but all are quite good, and I pick a casa more for the family living there, than for the house itself. Once you have arrived at your first casa it's usually easy to find your next casa based on a referral.
Prices range from 15 CUC to 25 CUC depending on the city and how long you stay. In the smaller cities, such as Vinales and Trinidad casa's depend more heavily on guests purchasing breakfasts at the casa - this is where they make a big share of the money.
Food in the casas are generally more expensive and better than in the state-owned restaurants with the exception of in Havana, but they are also better with bigger portions.
In my list of contacts below, you can find the casa's I stayed at. There are some listed in the guide books, but I'd rather help a family that isn't listed in the Lonely Planet. The owners are usually more hospitable, and casa's in the guidebook's don't need the business as much.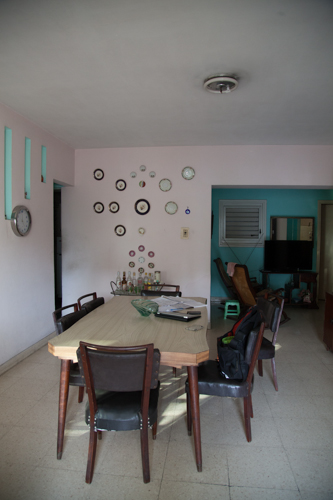 Casa Particulars
Vinales

Villa Dary y Tuty - 4 Habiticiones
+53 - 52783750
+048 - 796022
Calle Salvador Cisneros #48
daymita@correoducuba.cu
Villa Martha y El Chino
Calle: 7a #24 e/ 2da y 4ta
+048 796199
villamarta@correosdecuba.cu

Havana
Carmina y Jose Luis
19 e May #24 apt 2
e/ Ayestaran y Almendares
Plaza de la Revolucion, Habana, Cuba
Tel: +537 8795355
caacarmina@gmail.com
Baracoa

Sr. Ivan Ramirez Ramirez
Sra. Rosa Isabel Quintero
Marti 87-B e 10 de Octubre y 24 de Febrero
Baracoa, Guantanamo
Tel: (53)(21)64-2206; (53) 53104929
Email: rosa.bcoa@yahoo.es